Poland as the Guest of Honor at the 2023 Taipei International Book Exhibition
05.02.2023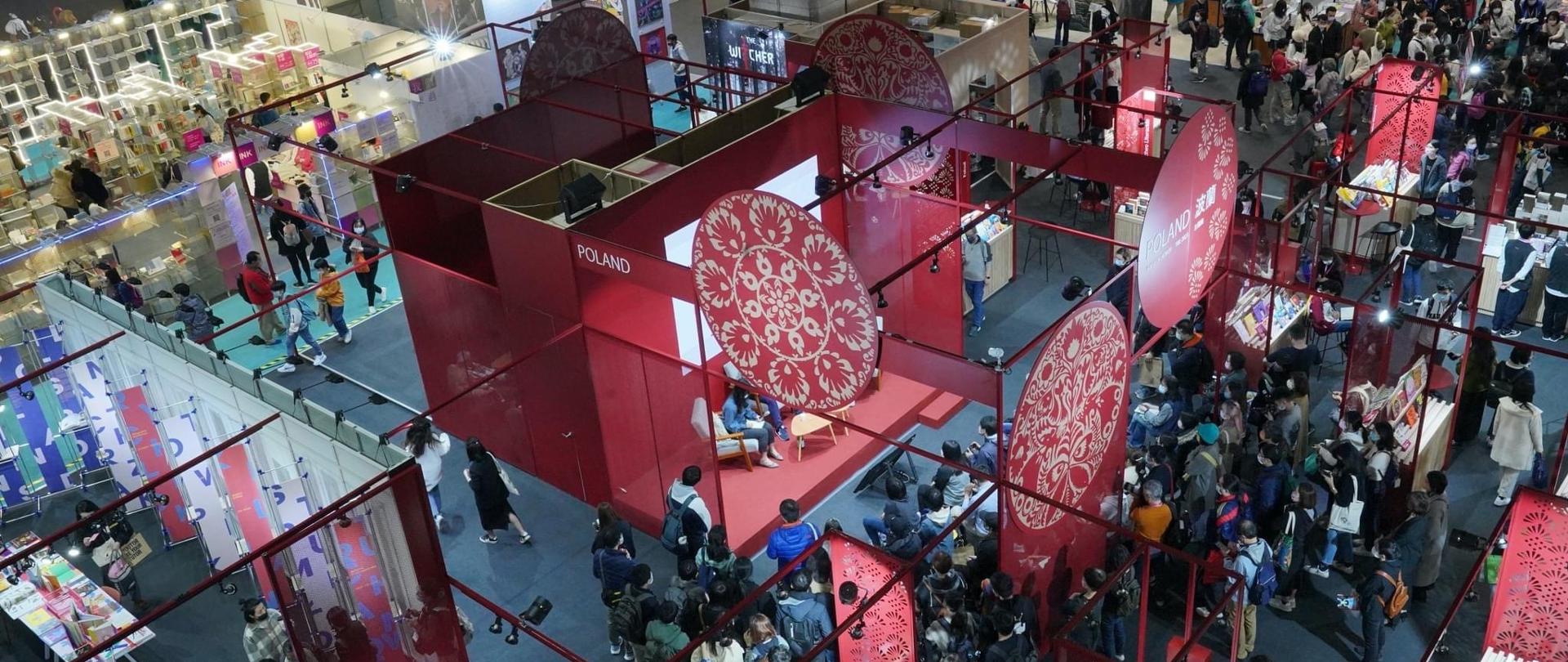 On January 31 - February 5, Poland was the Guest of Honor at the 2023 Taipei International Book Exhibition (TIBE 2023). TIBE is the largest book fair in Asia and the fourth largest event of this type in the world. The main organizers of the fair are the Taiwanese Ministry of Culture and the Taipei Book Fair Foundation. Within 6 days, TIBE was visited by 500,000 people.
During the official opening of the fair, speeches were delivered by: President Tsai Ing-wen, Minister of Culture Shi Che, the Chairperson of the Taipei Book Fair Foundation Isabella Yunyi Wu, the Director of the Polish Office in Taipei Cyryl Kozaczewski as well as the Director of the Polish Book Institute Dariusz Jaworski. The Deputy Prime Minister and Minister of Culture and National Heritage, prof. Piotr Gliński, delivered greetings to the organizers and participants in the form of a video recording. The opening ceremony was graced by a concert of the Polish-Ukrainian band Dagadana. Polish authors were represented on site by: Andrzej Sapkowski, Witold Szabłowski, Marzanna Bogumiła Kielar, Rafał Kosik, Bartosz Sztybor, Stanisław Łubieński and illustrators Marianna Opalenik and Piotr Socha.
The Polish Pavilion covered an area of 440 square meters. On the main stage, several dozen events took place, including meetings with authors, literary and illustration workshops, a presentation of contemporary Polish architecture, a Polish language lesson, as well as a presentation and tasting of Polish dishes.
The Polish pavilion, hailed as one of the most interestingly designed stands among all the others, included many separate zones, such as:
- an exhibition on Polish history - the history of Poland in 24 books;
- the Captains of Illustration exhibition - a presentation of contemporary and classic illustrations for children;
- an exhibition of manuscripts and old prints;
- the exhibition Wonders of the World - literary works important in the world literature;
- B2B zone for publishers;
- point of sale of Polish books published in Traditional Chinese and English;
- a stage for meetings with authors and workshops.
Some of the events related to the Polish presence at the book fair were also held in various locations in Taipei:
- concert of the Dagadana band in the Eslite concert hall;
- illustration workshops with Marianna Oklejak;
- a walk with the writer Stanisław Łubieński in Da'an Park combined with a discussion about the local nature.
- The Most Beautiful Books exhibition organized thanks to the cooperation between the Taiwan Design Research Institute and the Polish Society of Book Publishers.
The organizers of the Polish program were the Polish Book Institute and the Polish Office in Taipei. The partners were the Adam Mickiewicz Institute, the National Library, the Pilecki Institute and the International Cultural Centre.
Photos (7)